CoinDCX App: How to Use, Refer, Buy and Sell Crypto, and Withdraw Money
CoinDCX, a popular cryptocurrency trading platform, is recommended for people who are just starting to invest in cryptocurrencies. It features all of the most popular cryptocurrencies and the layout is easy to use. It is simple to use and includes all the most popular cryptocurrencies.
Related | Paxful Review: The Most Flexible Exchange to Buy and Sell Bitcoin
CoinDCX basics for mobile app
The CoinDCX mobile app is easy to set up and use once you know the layout. It is easy to trade in Bitcoin and other cryptocurrency. The app allows you to check prices, set alerts and much more.
Download the App
Before starting, we should let you know where you can download this app from.
This app is available to download both on Android and iOS mobile platforms.
Now you're familiar with how to download the app. Let's look at all the features and the basics of the app. You will also find answers to some common questions about the app.
Setting Up Account
To set up your account, you will require the following:
Name (As per PAN card)

Valid Email ID

Mobile Number

Bank Account number

IFSC code
You can follow these steps to set up your account:
1. Click on .Sign up with your email To verify your account, you will need an email ID that is valid.
2. After that, you will need to enter your name (as per PAN card), email, and password.
3. Click on Continue and enter your valid mobile number.
4. Great! You have set up your profile but to add funds to do any sort of trading you will need to enter your bank account details
5. To deposit or withdrawal any amount over 10,000 INR, you will need to complete your KYC.
Following documents are required for KYC:
Your Photo

Aadhar card/Passport
PAN card
Depositing money
Your bank details are required to perform any sort of deposit to the CoinDCX wallet. Transfer money to Coin DCX wallet using UPI or Mobikwik. Do note that you will need to deposit a minimum of 500 INR if you choose UPI. To add funds:
1. Go to the Account section
2. You will see your wallet balance
. Click on Add funds
You can check the amount in your wallet in the Account section.
Buying Cryptocurrencies
To buy cryptocurrencies like Bitcoin, Go to the Prices

section.
2. Choose Bitcoin. You will be able to see its price, with an option to buy it.
3. Click on Buy, enter the amount that you wish to buy Rupees or bitcoin and the conversion will be displayed in Rupees.
And from there you can buy it. You will see the amount deducted from your wallet.
Note: You do need to make a purchase of at least 10Rs
Transfer Bitcoins to CoinDCX
If you have a pre-existing Bitcoin wallet, you can transfer your bitcoins to CoinDCX as well. You will need to provide your wallet address when you set up.
How to trade?
Let us talk about trading cryptocurrency. But remember that crypto prices are volatile and can change frequently so you may lose money.
Buying or selling amount on CoinDCX needs to be a minimum of Rs 10 and since the prices of crypto are volatile and keep changing so you may buy crypto at Rs 10 but end up with more or less than that amount. You can also not sell crypto at Rs 10 due to its fluctuating prices.
You should be on the lookout for news and other developments around cryptocurrencies as these factors also have an effect on the value of currencies in the crypto market. Some good outlets to keep track of news and new developments of the crypto market are
CoinDCX has its own telegram channel for better insight and upcoming events & coins.
Withdrawing Money from CoinDCX
You can withdraw your money from Coin DCX wallet to your bank account but the minimum amount you can withdraw is 500Rs and the maximum without KYC is 10,000Rs.

To withdraw money, Go to the

Profile

section> Wallet. You can now add or withdraw funds from your bank account.

You can choose to withdraw a different percentage of your current wallet balance or enter the exact amount but it needs to be greater than 500Rs.
Also, read | 5 Ways to Buy Things Using Bitcoin & Other Cryptocurrencies India
Key Features of the CoinDCX App
Let's talk more about some key features of the app.
Check Prices
You can always check the current trading prices of different crypto in the Prices section.
You can click on the crypto and go to Price charts and details to see its performance in the past hour, 24 hours, week, and so on.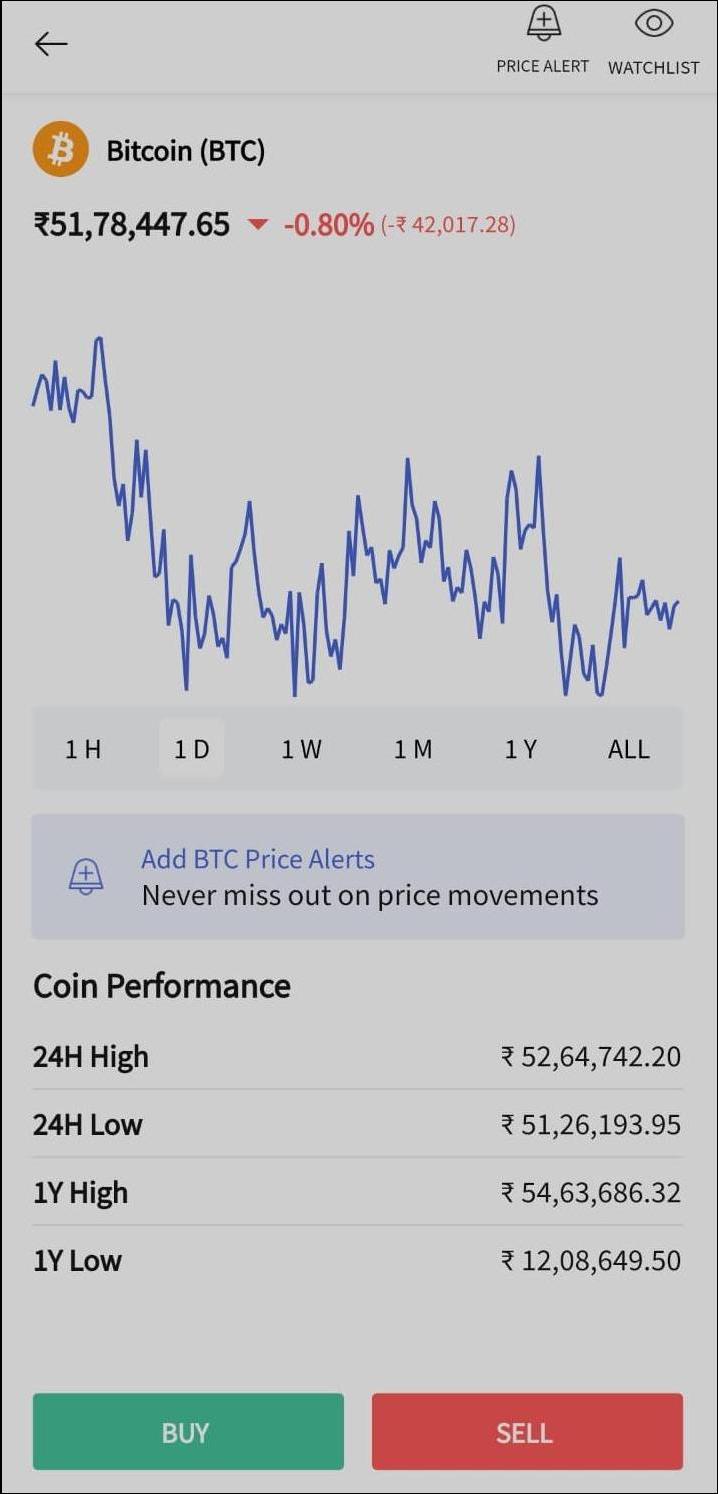 Set Price Alert
You can also set up a Price Alert so you can be notified when crypto reaches a certain price or add it to your watchlist to keep it simple for you to track its performance.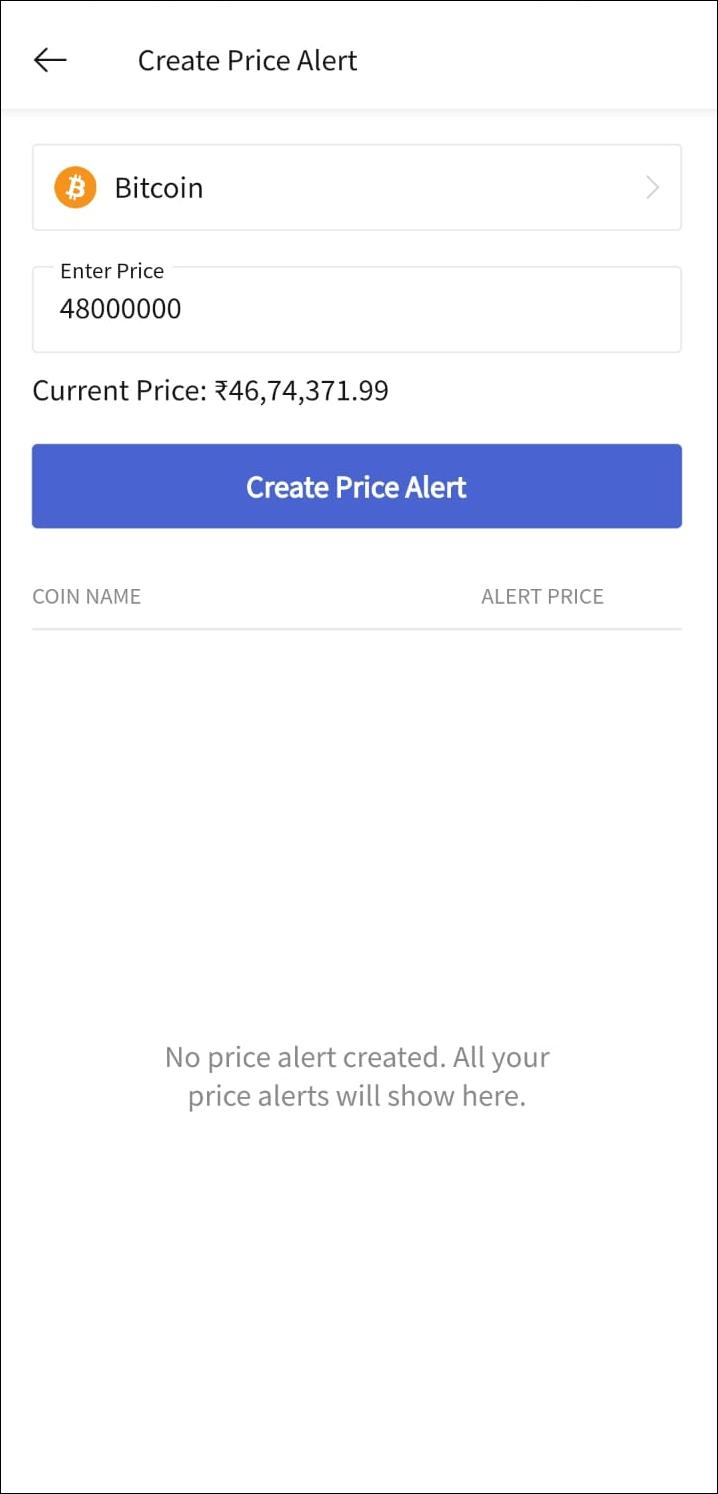 Create Watchlist
You can keep track of some of your favorite cryptocurrencies on a separate less cluttered list called the Watchlist. You can add it to your watchlist by tapping the eye icon.
Check Your Investments
In the My Investments section, you are able to see the coins you have purchased, the amount you invested, and your gains. Click on the crypto that you wish to sell.
Refer and earn Cryptocurrency
You can refer and invite your friends by going to the Profile section > Invite & earn.
Here you can send a link to your friends. If they install the app using your links and create an account, you and your friend will be rewarded with 100Rs worth of Ethereum.
2. You can also redeem free cryptocurrencies if you have a referral or any Promo code like XYZ100.
You will be able to find Redeem code section right on the homepage.
How to disable the CoinDCX account
To disable your Coin DCX account. Visit

coindcx.com/login

, now enter your details. An OTP will automatically be sent to your email address and number.

Once logged in, Go to Profile> Security> Account activity> Disable account. It can be activated at any time.
Wrapping Up
CoinDCX app features a set of intuitive features that new and experienced investors both will enjoy and its ease of use is something to be appreciated. We hope you found this information helpful and that it helped you gain a better understanding of the app. Stay tuned for more Crypto tips.
You can also follow us for instant tech news at Google News or for tips and tricks, smartphones & gadgets reviews, join GadgetsToUse Telegram Group or for the latest review videos subscribe GadgetsToUse Youtube Channel.
anshuman,https://gadgetstouse.com/blog/2021/11/24/how-to-use-coindcx-app-refer-buy-sell/