Dead Livestock Litter Parts of Central China After Flood
.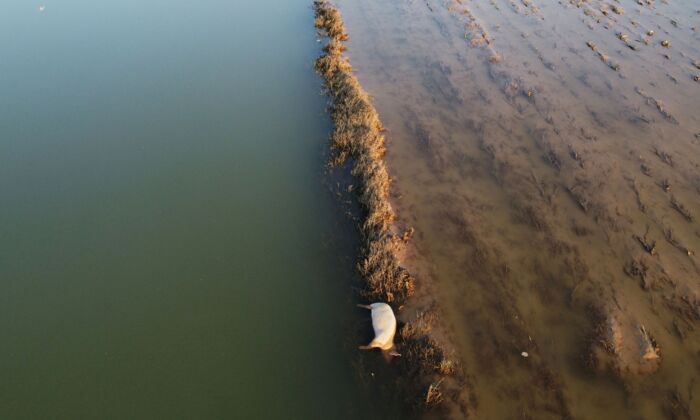 A pig carcass lies in floodwaters on farmland following heavy rainfall in Henan Province, China on July 25, 2021. (Aly Song/Reuters
The widespread flooding in central China has ravaged farmers' livelihoods and made it possible for them to lose their livestock, making them a potential threat. Waterlogged animal carcasses and temperatures over 90 degrees Fahrenheit have combined to create the risk of airborne diseases.
Floods hit cities, towns, and villages in Henan Province on July 20 and not long after, photos of pig bodies began showing up on Chinese social media.
Officials from one village named Nanweiwu published a letter on July 29 requesting disinfectants, protective equipment, and a professional team to dispose of dead livestock and to help clean up farmlands.
They said that over 90 percent of the dead livestock were still floating in the water.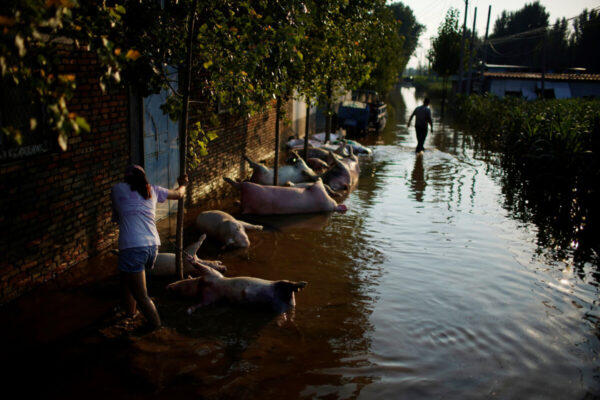 Authorities said over 6,000 swine drowned in the flood but one local named Wang Shi (pseudonym) told The Epoch Times that he estimated that at least 10,000 pigs had died.
"The swine will swim for a while, and then begin to die after three days," Wang said on July 31. It's the tenth of today ."
He claimed that the waters rose each day for more than a week and reached a peak of about six-and-a half feet.
Wang stated that many farmers had considered ending their lives because they couldn't afford to repay the loans used to raise livestock.
Local farmers often raise pigs in large sheds that house between 700 and 800 animals. One shed is normally worth over $300,000. Wang says that farmers always have at least two sheds. He expects that livestock and crop losses combined will exceed $15 million.
The local Nanweiwu authorities are yet to confirm if they will offer financial assistance for flood victims. According to the agriculture ministry heavy flooding has killed almost 250,000 swine nationwide and affected 15,000 farmers.
https://www.theepochtimes.com/dead-livestock-litter-parts-of-central-china-after-flood_3932121.html, The Epoch Times
Read more