Do Marriott Points Expire?
Just like a can of beans in your pantry, Marriott Bonvoy points have a shelf life. While your points will not expire in an instant, they won't be there forever if you don't keep your account active.
Due to COVID-19, Marriott has paused points expiration until March 31, 2022.
Following that pause period, Marriott will return to its normal policy where points expire if your account goes 24 months without qualifying activity.
Furthermore, if there's been no activity on your Marriott Bonvoy account for five consecutive years, Marriott can deactivate your account entirely.
As long as you keep earning points consistently, your Marriott Bonvoy points won't expire.
How do I find out when my Marriott points expire?
To find out when your Marriott points expire, log in to your Bonvoy account and click on your name in the top right corner. The menu will display your elite status, your points balance, and an action list.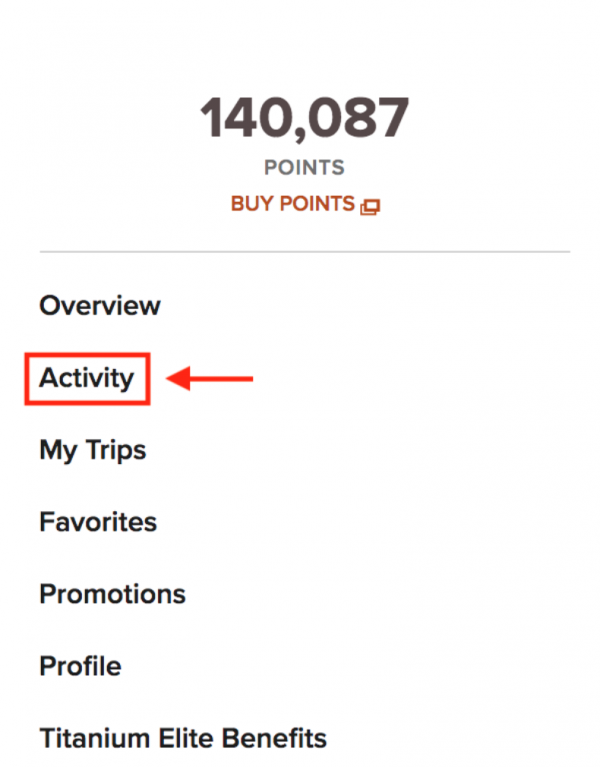 Click on "Activity," and you'll see a page with your recent points earnings and redemptions as well as the points expiration date.

How to keep Marriott Bonvoy points from expiring
One of the foolproof ways to ensure your Bonvoy account is active is to keep earning Marriott points. The rewards expiration date for Marriott Bonvoy points will not change as long as you continue to earn points.
If you're worried about your Bonvoy points expiring, you have several options to make sure your account remains active:
Book and complete a paid stay or an award stay.

Credit non-stay hotel spending to your account.

Make a purchase with a co-branded Marriott Bonvoy credit card.

Transfer points from a flexible program.

Purchase Marriott Bonvoy points.

Convert hotel points to airline miles.

Shop with Marriott partners.

Plan a meeting or an event at an eligible property.
Use transferable currencies
Have access to American Express Membership Rewards or Chase Ultimate Rewards(r)? Both of these flexible bank currencies transfer to the Marriott Bonvoy program, and sending as few as the required 1,000 point minimum to Marriott will help extend the life of your rewards.
Buying points
Another option you have is purchasing Marriott Bonvoy points starting at a rate of $12. 50 per 1,000 points or 1. 25 cents per point. You can purchase as few as 1,000 points and as many as 100,000 points per calendar year. NerdWallet values Marriott points at 0.7 cent apiece, which means that 1. 25 cents is on the steeper end. However, purchasing 1,000 points to extend the life of a few hundred thousand points makes sense if you don't have another way to keep your account active.
Transfer points to partner airlines
Transferring Marriott points to a partner airline will also push back their expiration date. Bonvoy members can convert their hotel points at a ratio of 3:1 (with the exception of Air New Zealand Airpoints and United Airlines MileagePlus) to more than 40 airline loyalty programs. United Airlines MileagePlus receives a 10% conversion bonus, which increases the transfer rate to 3:1.1, while Air New Zealand Airports converts at 200:1.
Additionally, you can also earn 5,000 extra miles for every 60,000 Marriott points transferred. You can transfer up to 240,000 points per day, meaning you can gain an extra 20,000 miles just by transferring with a partner airline.
Earn points by purchasing from Marriott partners
Doing business with Marriott partners, such as Hertz or Uber, will also help you earn points and keep your account active. For example, booking a rental car with Hertz for two or more days will earn you 2,000 Marriott points per rental through Dec. 31, 2021.
You can also earn points by linking your Marriott Bonvoy account with Uber. You can earn up to 6 Marriott Points per dollar you spend on Uber Eats orders.
Uber Eats isn't the only way to earn points while ordering food. "Eat Around Town" is a program by Marriott that lets you earn hotel points by dining at more than 11,000 participating restaurants and paying with an eligible credit card. You'll earn up to 6,000 Bonvoy points just for signing up for the program and eating out within the first 60 days.
You could also plan a business meeting at an eligible Marriott property. You'll earn 2 Bonvoy points per dollar spent per event (up to 60,000 points for general members and up to 105,000 points for Titanium Elite and Ambassador Elite members).
Gifting points doesn't count
Keep in mind that transferring or gifting points to another Marriott Bonvoy member or receiving a point transfer from someone else isn't considered a qualifying activity and will not reset the 24-month clock.
If you're worried about Marriott points expiration
If you're worried about your Marriott points expiring, look over all the ways to perform a qualifying activity and pick the easiest one you can complete before the account is deemed no longer active. It's not worth risking your hard-earned rewards if you didn't pay attention.
How to Maximize Your Rewards
You want a travel credit card that prioritizes what's important to you. Here are our picks for the best travel credit cards of 2021, including those best for:
Anya Kartashova, https://www.nerdwallet.com/article/travel/do-marriott-points-expire Read More