How to Contact Marriott Bonvoy Customer Service
Travelers who frequently stay at Marriott hotels will likely need to contact customer service for one reason or another. You may need to get a copy of a prior hotel bill or contact Marriott Bonvoy to request missing points or Elite Night Credits. Or perhaps it's just to confirm that the hotel's airport shuttle is running.
Unfortunately, there isn't one main contact to get help with all of these issues. Each of these reasons for contacting Marriott has a different solution — and contact flow.
So, how do you get in touch with Marriott Bonvoy customer service? Let's review how to contact Marriott Bonvoy about common issues and concerns.
Consider contacting the hotel directly
Before you contact Marriott Bonvoy, consider if the hotel is the best place to contact first.
For instance, if you're curious about a specific hotel's breakfast options, housekeeping frequency or on-site laundry availability, you might be wise to first contact that hotel's front desk — not Marriott Bonvoy.
Save time by calling the hotel directly with these types of inquiries. After all, if you contact Marriott Bonvoy, the agent will likely either transfer you to the hotel or place you on hold to call the hotel to ask the same question. 
To get the hotel phone number, you can either search online for the hotel name or select the My Trips page in your Marriott Bonvoy account to see the contact information for upcoming stays.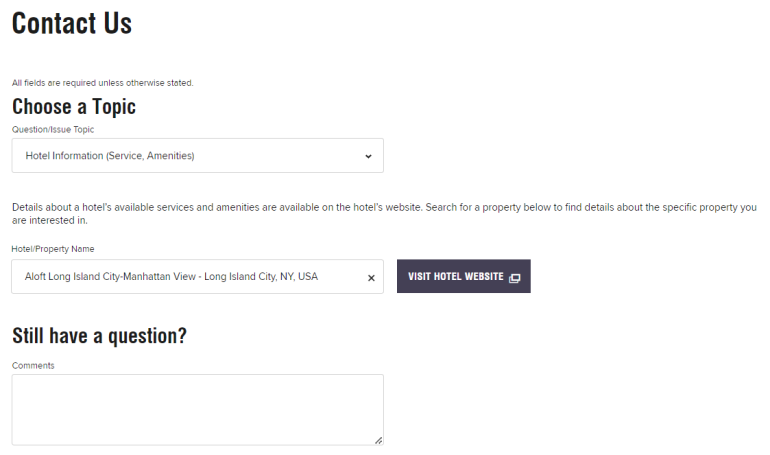 If you prefer a written response about a hotel's service or amenities, you can submit a question to the contact form on Marriott's website. Just select "Hotel Information (Service, Amenities)" from the drop-down list and enter the hotel or property name.
The Marriott Bonvoy contact number
If you have issues with your Marriott Bonvoy account, U.S. and Canadian travelers can use the Marriott Bonvoy contact number at 800-627-7468. For members based overseas, Marriott lists local phone numbers for 17 countries and regions.
To get the quickest help, make sure your phone number is in your Marriott Bonvoy account and call from that phone number. By doing so, the phone system should automatically recognize you and shortcut the process of pulling up your account information.
In addition, Marriott still lists a half-dozen mailing addresses and fax numbers for guest services — arranged by region.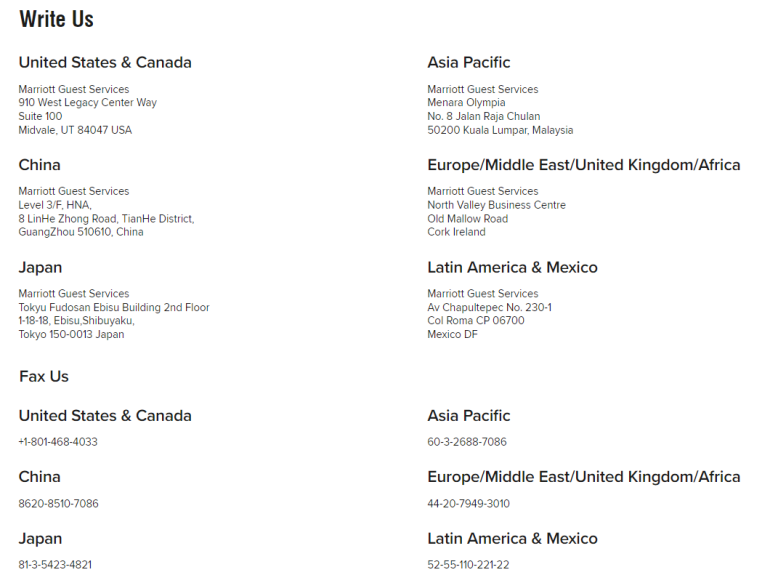 Marriott phone numbers for reservations
To make a new Marriott reservation, U.S. and Canadian travelers can generally call 888-236-2427. However, Marriott has separate phone numbers for certain types of reservations:
Ritz-Carlton reservations: 800-542-8680.

Gaylord Hotel reservations: 877-382-7299.

Atlantis reservations: 800-285-2684.

All-inclusive resort reservations: 844-683-8959.
To inquire about booking meetings or event space, Marriott's contact number is 800-831-4004.
Can you chat with Marriott Bonvoy?
Marriott Bonvoy offers a chat service on its website, but you'll need to navigate to the Help page to access it. Select the question mark bubble in the lower right corner of your browser to start the chat. 
You'll be asked to choose from several options: help with your Marriott Bonvoy account, help with a future or past stay or something else.
Selecting one of these options will lead you through a series of related questions, with the goal of answering your question. If you're unable to find an answer, you'll be asked if you'd like to speak to someone to assist you instead.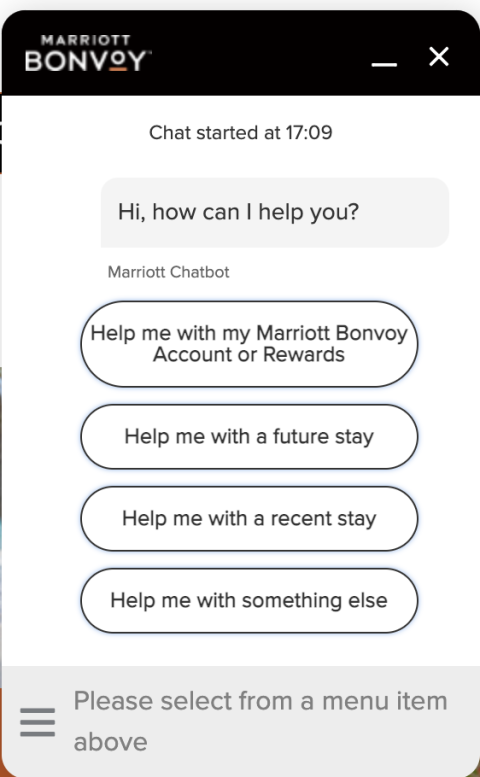 Travelers can also contact Marriott Bonvoy through Twitter at @MBonvoyAssist. However, don't expect much in the way of solutions if you use this method.
The Marriott Bonvoy team monitoring this account will generally open an internal case or reach out to hotel management with your concern rather than taking action to help — even in urgent situations like a Marriott hotel refusing to honor a reservation.
How to get a copy of your Marriott bill
Lost your hotel folio? Marriott makes it easy to request a copy of your bill through its website. This can be helpful if you find unexpected charges on your credit card or need to submit a copy of your bill for reimbursement.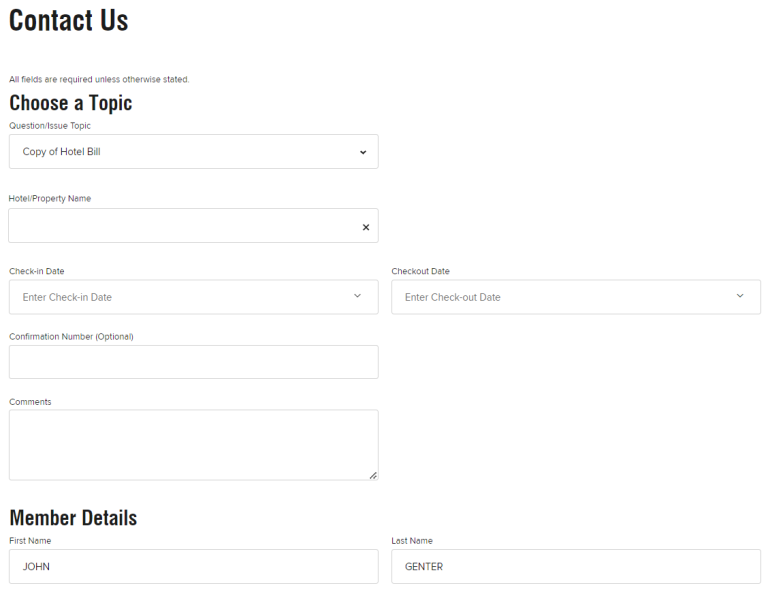 To start, log into your Marriott Bonvoy account, head to the Marriott contact form and select "Copy of Hotel Bill" from the drop-down list.
Enter the property name, check-in and checkout dates and your confirmation number (if you have it). Confirm your member number and contact details, then submit.
Request a missing Marriott Bonvoy stay credit
If you didn't automatically earn Bonvoy points or Elite Night Credits for a stay, Marriott offers a dedicated Missing Stay Request form for these types of requests.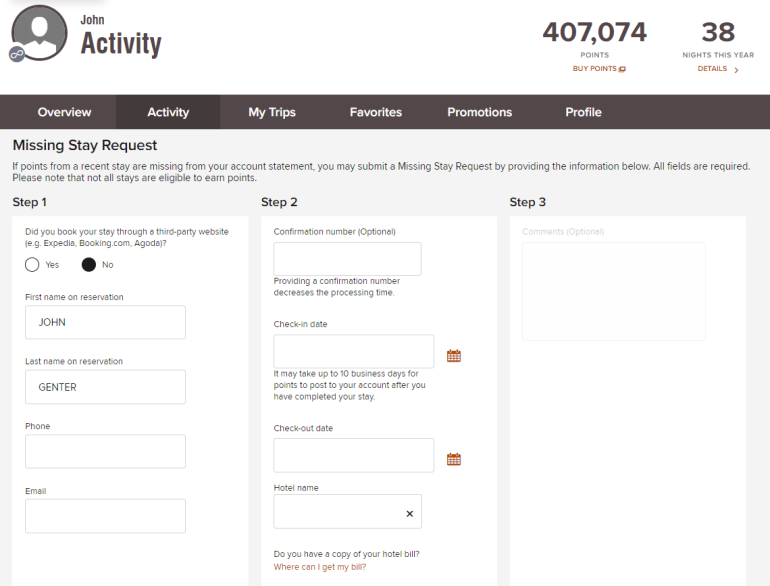 To shortcut the process, log into your Marriott Bonvoy account to autofill your information. You'll still need to enter the confirmation number, check-in date, checkout date, the hotel name and upload a copy of the hotel bill.
If you don't have a copy of your hotel bill, see the section above on how to request a copy.
How do I complain to Marriott?
To submit feedback to Marriott — whether good or bad — you'll want to use this contact us form. Select "Compliment/Concerns About a Stay" from the dropdown. Then, select either "Compliment" or "Concern" depending on the situation.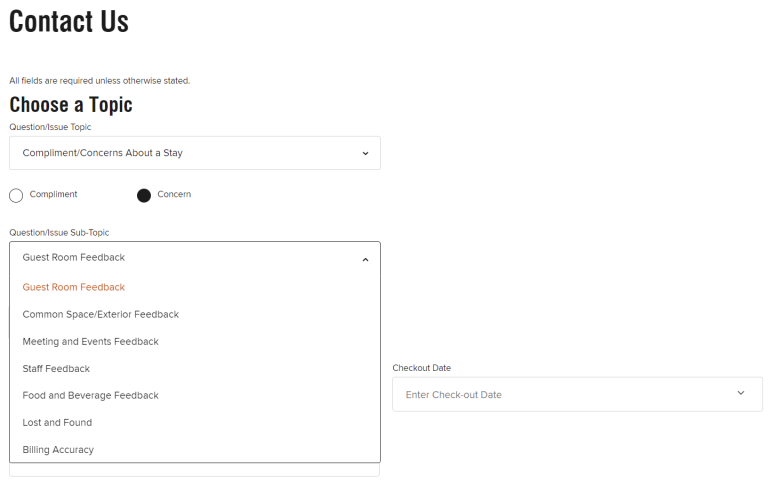 For complaints, you'll need to select one of seven categories: Guest Room Feedback, Common Space/Exterior Feedback, Meeting and Events Feedback, Staff Feedback, Food and Beverage Feedback, Lost and Found, or Billing Accuracy.
Then, enter the hotel or property name, check-in date, checkout date, confirmation number, comments and your contact information.
Contact Marriott Bonvoy even faster with elite status
Bonvoy elite members who earn Platinum status or higher get dedicated support when contacting Marriott Bonvoy. So, one of the best ways to get help faster is to achieve Bonvoy elite status.
Plus, you can shortcut you way to Bonvoy elite status through hotel credit cards.
All currently-available Marriott co-branded cards offer at least 15 Elite Night Credits. That's enough for Silver Elite status — which provides perks like 10% bonus points and priority late checkout. The following cards offer Silver Elite status:
The next tier of cards offers Marriott Bonvoy Gold Elite status. This elite status gets you 25% bonus points, 2 p.m. late checkout (subject to availability) and room upgrades. Just note that you'll need to enroll to claim this status with certain cards.
Terms apply.
Platinum Elite is the sweet spot of Marriott elite status, offering 50% bonus points, guaranteed 4 p.m. checkout at most properties, room upgrades up to standard suites, lounge access, choice of free breakfast and dedicated elite support.
Terms apply.
If you need to contact Marriott Bonvoy
Before reaching out to Marriott, consider if contacting the hotel should be your first step.
Most Marriott hotels are independently owned and operated. That means the hotel front desk will likely have more information than Marriott Bonvoy about stay-specific questions.
You'll want to contact Marriott Bonvoy directly when you need to request missing points or Elite Night Credits, when you have an issue with a stay that you can't resolve with the hotel or if you have a problem with the Marriott website.
You can also shortcut some requests — such as getting a copy of your hotel bill — by using a Marriott contact form.
How to maximize your rewards
You want a travel credit card that prioritizes what's important to you. Here are our picks for the best travel credit cards of 2023, including those best for:
JT Genter, https://www.nerdwallet.com/article/travel/contact-marriott-bonvoy
Read More