One Pot, Pan, Planet | Recipe For Preserved Lemon & Herb-Baked Orzo
Yotam Ottolenghi has described One Pot, Pan, Planet as "a book where thought meets practical action meets deliciousness". The man who makes vegetable dishes sing is a man to be praised.
One Pot, Pan, Planet, published by HarperCollins, is the latest book from Anna Jones, who has become something of a voice for modern vegetarian cooking. Her previous books, A Modern Way to Eat, A Modern Way to Cook, and The Modern Cook's Year, have sold in 10 countries and been translated into five languages.
This book calls for people to adopt a plant-based diet for the good of the planet. In the introduction to the book, she states that "our food system has one of the greatest impacts on the climate." It has an impact on every corner of the planet and every creature that lives there. It is clear that if we want to slow down and hopefully reverse climate change, the best thing we can do is to eat less animals and more plants Jones is an inspiration in how to cook fast, sustainably, and stylishly with no meat. She simplifies the recipes and reduces the number of pans in her latest book to make it quick and simple. You can sort the recipes by which utensil you used to cook them.
Recipes are quick to prepare
The One Pot chapter has stews, soups and curries, like Persian noodle; the One Pan chapter has fritters, pancakes and crispy-edged veg such as golden rosti with ancho chilli chutney. One Tray chapters offers quick and easy desserts and dinners that are all-in-one, such as baked dahl and tamarind-glazed sweet potatoes. While most of the recipes can be prepared quickly, some are more difficult. These are the dishes that she enjoys cooking for friends.
Jones provides practical advice on how to make a small difference in your shopping, planning and waste reduction. She also includes suggestions for how to use the food that is most likely to be thrown out.
The recipe was inspired by a Syrian-baked orzo dish that Jones learned about from a friend. She couldn't find the right recipe, so she created it. She says, "I'm sure it's a long way off the traditional recipe, but it has all I want to eat orzo." I'm still looking for the Syrian version. Please do get in touch if you have a good recipe."
---
Buy your copy of One Pot, Pan, Planet from Book Depository (free delivery worldwide).
Get your copy of Pan, Planet free delivery worldwide.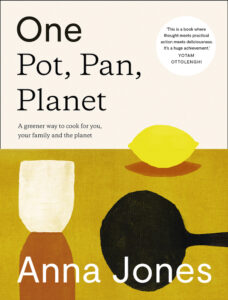 ---
PRESERVED LEMON & HERB-BAKED ORZO
Serves 6
2 medium leeks, washed, trimmed and thinly sliced
2 tablespoons olive oil
juice of an unwaxed lemon
1 teaspoon coriander seeds, roughly ground in a pestle and mortar
1/2 teaspoon fennel seeds
1 green chilli, finely chopped
100g baby spinach, washed
350g orzo pasta
4 generous handfuls of mixed soft herbs (I like parsley, tarragon, mint and dill)
400 ml plain yoghurt of your choice
1 organic egg, beaten, or 30g ground flaxseed
1/2 large preserved lemon, flesh discarded and skin finely chopped
1 teaspoon sumac
To serve:
4 spring onions, thinly sliced zest of 1 unwaxed lemon
Preheat the oven to 220degC/200 deg C fan/gas 7.
In a 28cm baking dish (I use a round one), toss the leeks with the olive oil, half the lemon juice, the coriander, fennel and chilli and season well with salt and pepper. Cover tightly with foil and cook in the hot oven for 15 minutes.
Meanwhile, combine the spinach with half of the herbs and all remaining ingredients in a large bowl. Season with salt and pepper.
Take the baking dish out of the oven and add the yoghurt and spinach mixture. Pour over 400ml boiling water and stir again to combine. Cover the dish with foil (or a lid if it has one) and return to the oven for 25 minutes.
After this time, take out the foil and squeeze the lemon juice over the dish. Return to the oven for another 5-7 minutes, until the top becomes crispy and the edges are golden. Let the foil cool in the oven for five minutes, then sprinkle with the spring onions, lemon zest and remaining herbs.
Recipe and image from One Pot, Pan, Planet, by Anna Jones, published by HarperCollins. Reproduced with permission from the publisher
This story originally appeared in PS News.
Christine Salins,https://www.foodwinetravel.com.au/food/one-pot-pan-planet-recipe-for-preserved-lemon-herb-baked-orzo/
Read More