'Wall of the Disappeared': US-Backed Uyghur Exhibit Opens in Geneva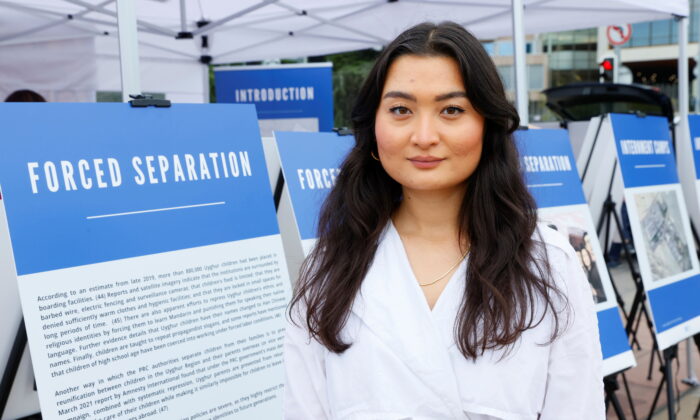 Zumretay Arkin, Program and Advocacy Manager at the World Uyghur Congress, poses at a U.S.-backed Uyghur photo exhibit of dozens of people who are missing or alleged to be held in Chinese-run camps in Xinjiang, in front of the United Nations in Geneva, Switzerland, on Sept. 16, 2021. (Denis Balibouse/Reuters)
GENEVA–A U.S.-backed Uyghur photo exhibit of dozens of people who are missing or alleged to be held in Chinese-run camps in Xinjiang, China, opened in Switzerland on Thursday amid high tensions over human rights between Beijing and Washington.
The "Wall of the Disappeared", which features interviews with camp survivors regarding alleged forced sterilization, stands outside the United Nations headquarters in Geneva. This week's session of the Human Rights Council is open for a month.
"It was important that we bring faces to represent statistics," Zumretay Arkin, whose uncle is featured in this exhibit, said. "It's easier to forget about numbers but if people see faces, we hope they will grasp the urgency of the situation."

Rights groups estimate one million Uyghurs and other ethnic minorities have been interned in camps that the Chinese communist regime describes as vocational training centers to combat religious extremism.
The United States provided a financial grant to the exhibit, which will travel to Berlin and Brussels later on, according the World Uyghur Congress. Sources who were present at the diplomatic reception said that earlier this week, it was displayed by the U.S. Mission in Geneva.
We are committed to putting human rights at the centre of our China policy and will continue to highlight the grave violations of human rights we see in China, in Xinjiang Tibet, Hong Kong and elsewhere," a spokesperson for the U.S. mission said.
The Chinese regime asked other members not to attend an earlier event on Uyghur repression organized by the United States, Britain and Germany this year, calling it an insult.
Michelle Bachelet, the top United Nations rights official, raised Xinjiang this week in her opening speech. She lamented that attempts to access Uyghurs to investigate allegations of grave violations have not been successful.
https://www.theepochtimes.com/wall-of-the-disappeared-us-backed-uyghur-exhibit-opens-in-geneva_4001734.html, The Epoch Times Read More