What to do on a weekend in West Palm Beach
Though Miami and Fort Lauderdale are often the focus of South Florida travel, West Palm Beach holds its own as a cosmopolitan city with great dining, shopping and museums.
Palm Beach has a history of being a getaway for the affluent, but across the bridge, West Palm Beach has carved out a reputation as a vibrant city with a slew of new restaurants and hotels that have attracted a younger demographic, especially in the past few years.
Here is a suggested a weekend itinerary to share with clients who are looking to spend a few days of sun, shopping and sipping cocktails in a city I'm sure they'll find to be one of South Florida's most exciting.
The Ben's lobby has a floor-to-ceiling bookcase. Photo Credit: Courtesy of The Ben, Autograph Collection
Day 1 
Start the weekend by checking into the waterfront hotel the Ben, Autograph Collection. The property opened in 2020 and has turned into the place to be seen in West Palm; on weekends, Spruzzo, its Italian rooftop restaurant, is buzzing with locals during happy hour (it buzzes on weeknights, as well, by the way). 
The Ben skips out on the usual Florida beachy decor in favor of midcentury brass lighting and pleated leather headboards in the guestrooms and a floor-to-ceiling bookcase and working fireplace in the lobby. Guestrooms have a secret sliding door (you'll be delighted when you find it), and there's a book butler who provides copies of hand-picked novels at your door.
For lunch, score a table at Adrienne's Pizzabar, a restaurant that's been recently transplanted from New York — not unlike many of South Florida's residents. Order one of the restaurant's signature pies (the original Sicilian is a good place to start) while you sip on a citrusy aperitivo spritz.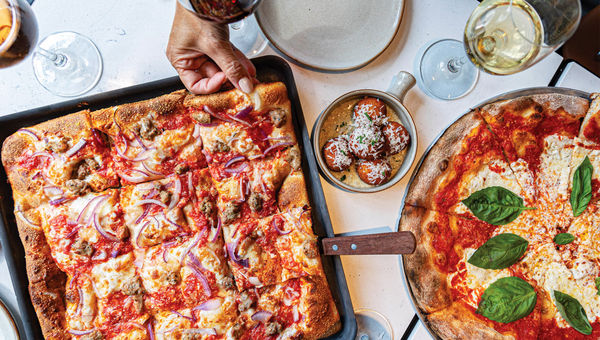 Adrienne's Pizzabar, a recent transplant from New York, serves signature pizzas and citrusy aperitivo spritzes. Photo Credit: Courtesy of Adrienne's Pizzabar
Next, head to the Norton Museum of Art. The museum has a permanent collection of American, Chinese and European art that includes thousands of paintings, sculptures and historical artifacts. Plan on spending a few hours here so you can also take in the special exhibits that rotate every few months.
After the museum, RH Rooftop Restaurant at Restoration Hardware is the perfect place to enjoy dinner and a glass of wine. Just a five-minute drive from the museum, the upscale restaurant has buttery lobster rolls and charred rib-eye steaks on the menu and a wraparound deck for soaking in the city views.
When the sun goes down, a walk across the street to the Square, West Palm Beach's revitalized entertainment district, is highly recommended. On Fridays, there's often live music in the plaza or you can stop by La Macaron or Sloan's Ice Cream to indulge in one of their Technicolor desserts.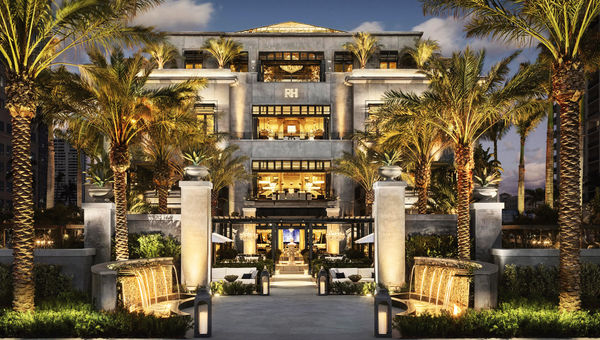 RH Rooftop Restaurant at Restoration Hardware. Photo Credit: Courtesy of Restoration Hardware
Day 2
Start the day at Proper Grit, the Ben's lobby restaurant, with an order of hearty buttermilk pancakes or the lobster Benedict. First stop from there should be the Henry Morrison Flagler Museum, Flagler's 100,000-square-foot estate that was built in 1902 as a gift by the Standard Oil founder to his third wife.
Flagler's impact on Florida is indelible: The wealthy industrialist built hotels along Florida's eastern shore and founded the Florida East Coast Railway. Flagler's 75-room winter retreat in Palm Beach, nicknamed Whitehall, has many of its original furnishings and artwork, and visitors from November to March can enjoy a Gilded Age-style tea service with scones and tea sandwiches in the museum's seasonal Cafe De Beaux Arts.
For lunch, Pistache French Bistro on lively Clematis Street is a cozy, white-tablecloth restaurant. Some of the award-winning bistro's signature lunch items are the steak tartare and burgundy escargot, and the lavender and French pear martinis are not to be missed. 
It wouldn't be a visit to Florida without a trip to the beach, and the best time to go is after 3 p.m. when the crowds thin out and the day starts to cool. The best beaches near West Palm Beach are Juno Beach Park just north of West Palm and Phipps Ocean Park in Palm Beach. 
Peanut Island is another great option; accessible only by boat, the 79-acre island is great for paddleboarding, kayaking and snorkeling. There's a public ferry that leaves every 20 minutes from 10 a.m. to 3 p.m., or you could charter a boat for the afternoon.
After a refreshing dip, head to Palm Beach's Worth Avenue, a tony enclave lined with luxury boutique stores and alfresco dining. There's also plenty of shopping at Chanel, Louis Vuitton and Gucci as well as Florida's homegrown preppy brand, Lily Pulitzer. Besides the fashion, the architecture is pretty incredible, too. The red-roofed Mediterranean buildings date to the 1920s, and the bougainvillea-lined streets feel like a world away from busy West Palm Beach.
Dinner reservations for nearby Buccan are a must. The restaurant is headed by James Beard-nominated chef Clay Conley and serves up global dishes like short rib empanadas, ravioli al uovo and shawarma marinated chicken.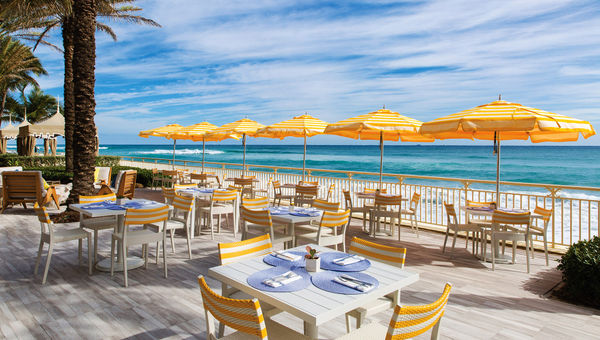 The beachfront Breeze Ocean Kitchen is tucked away in the Eau Palm Beach Resort & Spa. Photo Credit: Courtesy of Breeze Ocean Kitchen
Day 3 
Get Sunday off to a good start by brunching at the beachfront Breeze Ocean Kitchen, which is tucked away in the Eau Palm Beach Resort & Spa. The punchy yellow umbrellas and chairs will put you in a good mood even before the food arrives, and the menu pays homage to Florida flavors, with French toast topped with dulce de leche drizzle and lobster and crab crepes.
Next, head to Northwood Village, a hidden gem that makes for a perfect after-brunch stroll. The artsy, pedestrian-friendly neighborhood is a treasure trove of handmade goods, funky furniture and glass-blown sculptures.
Close out the weekend with a visit to Aoli, a downtown West Palm Beach bakery that has garnered a loyal following by focusing on gourmet sandwiches and salads as well as pastries — although a warning, those often sell out before noon. If you're lucky enough to find some on the shelves this late in the day, order the sea salt chocolate chip cookies or a slice of orange olive oil cake. 
,https://www.travelweekly.com/North-America-Travel/What-to-do-on-a-weekend-in-West-Palm-Beach
Read More